Join YCP Atlanta on Tuesday, August 16th for an Executive Panel Discussion event, featuring Tony Frese, Fr. Neil Dhabliwala, and Christine Lacayo who will speak on the spiritual value of work.
The YCP Executive Panel Discussion fosters a focused conversation about living virtuously in the workplace. Three panelists will lead the discussion about the spiritual value of work and how your particular profession could contribute to the Kingdom of Christ.
Afterwards, table leaders bring the discussion down to the individual level. At the end of the evening, representatives from each table share their collective insights with the rest of the group.
-------------------------------------------------------------
OUR PANELISTS:
Christine Lacayo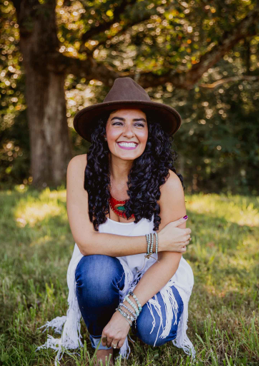 Christine is a multilingual content writer helping mission-driven brands build their audience and grow their brand awareness using brand storytelling through a multicultural lens.
While receiving her Master's in Environmental Management and Sustainable Development at St. Edward's University, she learned about the mission and values of the founders of her alma mater, The Congregation of Holy Cross. A Holy Cross education helped her to embrace a regenerative lifestyle through the lens of the Catholic faith: the importance of building community, connecting people back into nature, living your faith in action, and working together for the common good.
After working for the past 6 years with various environmental non-profits around the world helping them increase their brand awareness through communications and community building, she decided she wanted to start her own business as a writer to help other mission-driven companies make a deeper impact through consistent content writing and multicultural marketing. She also has a blog where she shares tips on content writing, multicultural marketing, and the intersections of living a life in faith while caring for our common home.
Fr. Neil Dhabliwala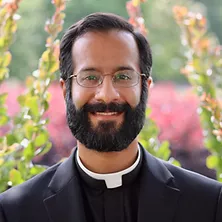 Fr. Neil received his BS Management and Information Technology from Georgia Tech in 2001 and Master of Divinity and MA in Moral Theology from Mount St. Mary's Seminary in 2008. Fr. Neil was ordained a priest in 2008. From 2008 - 2011, he has been Parochial Vicar at Cathedral of Christ the King, Pastor of St. Luke the Evangelist, Dahlonega from 2011-2016, and since 2016 has been serving as a Pastor of St. Catherine of Siena, Kennesaw. He is also a Member of Board of Directors, Pregnancy Aid Clinic; Chair of Board of Directors, Chesterton Academy of Atlanta; and Chaplain, Catholic Medical Association Atlanta Guild.
Tony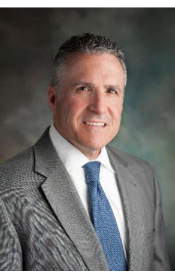 Frese
Tony Frese is Vice President, Business Development for Air Mobility & Maritime Missions (AMMM) at Lockheed Martin Aeronautics Company. In this role, Mr. Frese leads Domestic, International, and Commercial Business Development teams in the pursuit and capture of aerospace business to include tactical, strategic, and tanker aircraft.

Mr. Frese began working at Lockheed Martin in 1985, steadily
progressing through positions of leadership in the areas of
Engineering, Advanced Design, and as program director for
International and Domestic programs. He began his career as an
aerospace engineer supporting NASA on the Space Shuttle Program in Houston.

Mr. Frese is a graduate of the Georgia Institute of Technology, where
he received both his bachelor's and master's degrees in Aerospace Engineering. He is a two-time recipient of the Nova Award, Lockheed Martin's highest employee award.
A cradle Catholic and revert to his faith in his early 30's, Tony is an active member in his parish of Christ the Redeemer in Dawsonville and is currently the Section Director for the Atlanta Regnum Christi Men's Section. The Section has membership of over 200 men and is dedicated to Catholic formation and apostolate. Prior to his involvement in Regnum Christi, Tony served over 10 years at an adult leader in Life Teen at St. Ann's in Marietta, GA.

Mr. Frese is an avid fisherman and enjoys golf, boating, wine collecting, and volunteering at his church and apostolate. He and his wife, Skotti have been married for 13 years. They have two children, Mary-Carter and Jim, who are both lawyers. The couple lives on Lake Lanier in Dawsonville, Georgia.
1618 Ben King Rd, Kennesaw, GA 30144, USA